Ray's Bike Across America: Pictures and Thoughts From Ray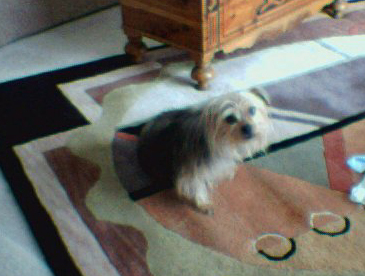 Here is Peanut. He is helping Ray pack for the trip.
4/6/04 With 1 Month To Go:
My gear has been packed on my touring bike for a month already, partly due to anxiety but mostly because it is important to ride with your gear to make sure bike, gear, and rider are ready for the 3,000+ mile trip.

Unfortunately the weather has not been cooperating. Since January I have been riding my trainer in the boiler room at the church to get used to the heat in the desert. Riding a trainer is so boring though, and I have to get used to the hills too (Those Rockies are probably hilly). So now I ride in and out of the valley in tights and jacket.

Next week I begin shipping my gear and boxing up my Cannondale (I named her "Winnebiko"). It all has to be shipped early to be sure it's there when I arrive in San Diego on May 2nd. After Easter I won't see any of my gear again until I get on it. That part is a little scary. I have fears of having to run to Wal-Mart to buy a Huffy and a pup tent.
Oh well. Might as well start out with an act of faith, Lord knows it won't be the last. - Ray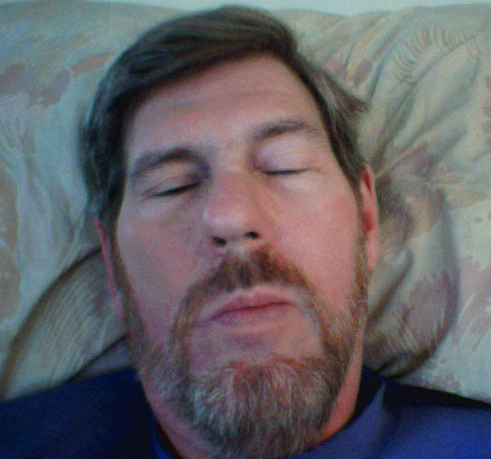 4/10
Got in 100 miles in the last 2 days. The picture gives you an idea of just how good you can feel after climbing out of the valley (Cuyahoga Valley that is) a few times.
Don't worry. Only 400 or so more miles on such rides (over the next 2 weeks), and I should be a ball of energy. And, the best part is that tomorrow is Easter Sunday!

Guess I better get up and get some work done.
Monday I hope to ship my gear out.
Here we go!
Happy Easter everyone!

Rev Ray

4/15
This week was a busy week. I sent quite a lot out. I sent all my sabbatical money, and Vernice's new car fund to the IRS. Gotta love that.
I also sent out all my equipment. The bike and 60 pounds of gear. I just hope it all arrives intact. If not, I'll be buying a pup tent and a Huffy as soon as I arrive in San Diego. ?See? I'm having an adventure already.
It doesn't seem possible that in not too many days this adventure will begin. For so long there was so much to do to get ready, and now all there's nothing but a few last minute details at work.
Rev. Ray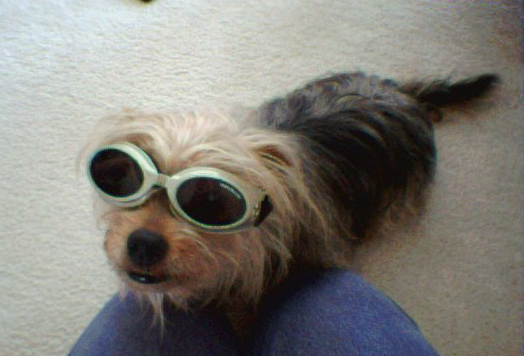 Peanut is all ready for the trip... Check out her new doggy shades!
5 /2 /2004
Well here it is, D-Day. Yesterday the weather was so nice (in Ohio). Bikes were in the valley and everything was so Spring-like that I was beginning to wonder why I was going to ride a bike across deserts, mountains, and Texas. I got up this morning to hard rain and 35 degrees. Now I remember.
David got to San Diego on Friday and reports that all gear arrived safely and is ready to go. That's good news. Now I'm at the airport on my way to meet him. Tomorrow morning the adventure begins.
It was hard getting through the morning this morning. Instead of planning for the rest of the day, or for that matter the rest of the month, all the planning is done for now and all that's left is the start. It's a bit like knowing the day and time you're going to die.
Maybe it is a bit like dying. One part is finished and a new unknown lies ahead. Best not to dwell on that one. Vernice and peanut will meet us in Tempe next week. Peanut is all ready for the trip... Check out her new doggy shades!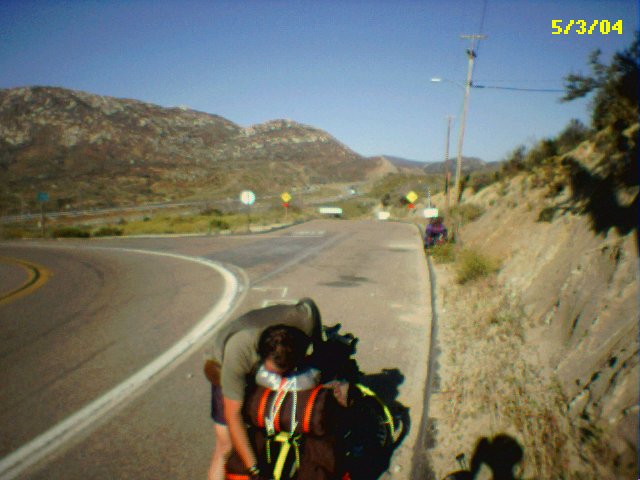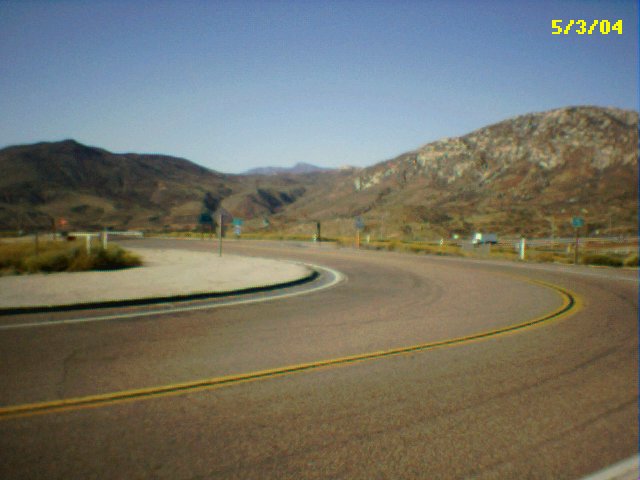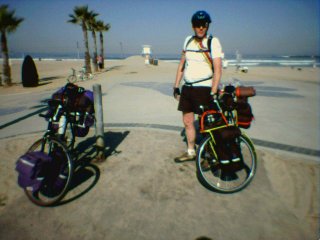 5 3 2004
54.5 miles; 5000 vertical-foot climb. Average speed 7.4 mph.

I am so glad already that I didn't wait until I was 70 to do this ride! Because today would have killed a 70 year-old. The 100 degree heat made the climbs extra special.
We road from San Diego to Pine Valley Cal today. David broke the hex right away by having the first flat tire just a mile and a half from our motel. Then he doubled his luck by having a second flat in the heat of the day. It took all day to get in. We stopped under any shade we could find. it was nearly dark by the time we got in. But at least we're smart enough to not take stupid chances, and we're OK for tonight.

Tomorrow is another day.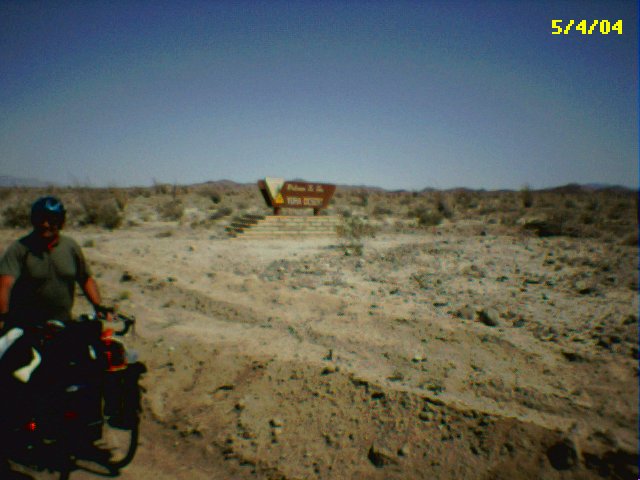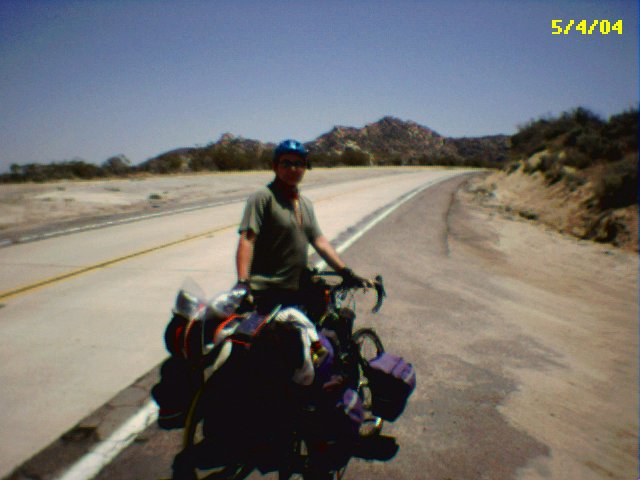 5 4 2004
49.4 miles at a blazing, and I do mean blazing, 8.5 mph.
We got up at 6:00 and ate a good breakfast in Pine Valley at the Major Cafe. It's a cute place to stop if you ever go there. It's the only place to stop if you ever go there. From Pine Valley we climbed more hills that hurt us early on after yesterday's ride.
We passed through such delightful towns. Live Oak Springs, Boulevard, Jacumba—all which are about the size of our condo. Some of them didn't have water. Yesterday I drank 3 gallons of water. Today wasn't quite as bad.
We are now camping on the West edge of the Yuha Desert and it is 103 degrees in the shade! It's so hot it burns to touch metal parts of the bike. Tomorrow we leave in the dark to beat the heat.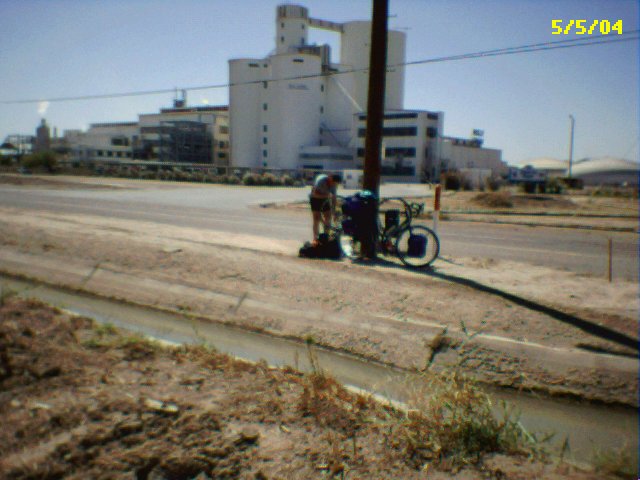 5 5 2004
Cinco de Mayo 40.5 miles at 11.5 mph
?Who would have thought we would have to go to the desert to find cooler weather? We left before 7:00 AM to beat the heat, and it only got to 94 degrees by noon. That's absolutely cold comparatively. And the humidity was up to 12 percent. The road was rough but flat and the riding was pleasant enough.
David is no longer known as David. He is now the Flat Tire King. Not only did he flat today, he cut a tire and had to put on his emergency spare.
We spent the afternoon patching tubes, doing maintenance, and preparing for tomorrow's 75 mile trip through the desert. We have enough provision (water, food, portable shelter) to stay there overnight if we have to (King of flat tires ).

5/6/04
Via a Telephone message from Vernice:
Palos Verde, CA, 75 miles of desert today. Ray reports that both riders are OK! The telephone signal is week in this area so Ray can not get a message out. He will try again tomorrow.
Later from Ray:
5 6 2004
68.8 miles at 11.2 mph.
This was a wonderful, uneventful, long day through the desert. We left Brawley at 5:00 am in order to beat the heat, and we carried 4 gallons of water just in case we had trouble and had to stay in the desert.

As it turned out, we had a great day. The wind was at our back most of the day, the hills weren't too bad, and we managed to wrangle a motel room instead of camping in the heat.

The only town between Brawley and Palo Verde is Glandis, which is a building and some trailers. The cans of Spam were covered with dust and nearly $4.00. We ate there anyhow and moved on. You do what you have to do. Tonight in Palo Verde, tomorrow Quartzite. This was a challenging, great day to be on a bike.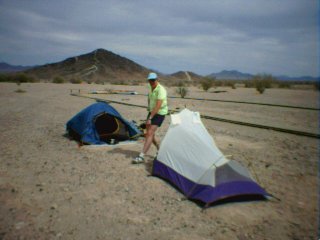 Camp Quartzite
5 7 2004
43.5 miles at 10.5 mph.
Well, it was a good day in spite of a few bloody setbacks. We left Palo Verde and headed for a bike shop in Blythe because David's back wheel has gone badly out of true. We found the shop, who let us use his tools to true the wheel, at which point David cut off his index fingernail putting the wheel back on.

Having bandaged that up, we headed up rte 10 to get to our overnight camp in Quartzite. Rte 10 is interstate, and as it turns out, under construction. I hit a barrier marker with my front pannier and crashed.
Actually in spite of all that, we're in camp and fine and it was a good day of touring.

5/11/04
Message from Ray in Mesa Arizona:
Hi everyone. My PDA is out of commission and I don't know how I will get things out to you on the road. I am working on setting up David's PDA and if it works things should continue on OK.
In the meantime we are at my other brother-in-law's house, and so I have been able to check the website and the email from all. Thank you.
We arrived here after a really long day on Sunday to get us here a day early for an extra layover day. There are a few things we have learned this week.
1. Don't stick your fingers in a rotating wheel, it hurts.
2. Don't crash; it hurts.
3. Don't pour hot coffee in your helmet.
4. Don't ride a fully loaded touring bike 117.5 miles in one day, it hurts.
that's what we did Sunday to get here. The heat was over 100 degrees and the first 18 miles was uphill. We lefts before sunup, and got in after dark. But it did give us an extra day to regroup which we really need now.
Vernice and Maddrey will arrive in a bit with the trailer, and tomorrow we head for Globe, AZ. The next few weeks we will ride without our gear on the bikes which will make this part of the trip more fun.
Will send pictures if and when I can, will email if and when I can. the cell only works a small part of the time, so I don't get or make many calls.
It does sound as though Margaret will have a very difficult week, pray with and for her.
Rev Ray

Hi gang:

Will have to depend on the grace of others and libraries from now until I
resolve pda issues.

5 12
70 miles and pretty darn hilly miles at that!
We rode from Mesa to Globe and it was a good ride even if it was tough.
The scenery was literally breath-taking. David, the king of all things
flat, had two flats again today, one in the front and one in the back.

5 13

Rode 82 miles from Globe to Safford AZ through the middle of nowhere. We
rode thought the San Carlos Indian Reservation, and about the most exciting
thing we experienced was when the locals wanted to know how much money we
had to have on hand to do such a thing. We assured the natives we were
poor, and got out of there as soon as possible.

Oh, there was another highlight. We passed a rattlesnake on the road, which
is not all that unusual. They seem to want to warm themselves on the
highway, and when they do the trucks tend to run them pretty flat. We have
seen a lot of them that way. The rattlesnake we saw this morning was
another one we thought was dead, but it wasn't. Safford is nice, much
nicer than Globe. We passed a little town named Geronimo that was a vacant
building. Like I said, there wasn't much to see out there today.

5 14
78 miles, of back-breaking riding up switchbacks and in the middle of some
of the most scenic no place I have ever been.
We left Safford to ride what we knew was going to be a long day to a little
nothing town called Buckhorn NM. We rode on a hill where if you walked you
did it at 3 miles an hour. If you rode you did it at 3 miles per hour.
Trucks were going up it at about 4 miles per hour. But it was indeed
beautiful. Buckhorn had pretty much nothing but fleas, which the dogs were
covered with.

Got up in the morning, and the king had a flat tire before we left. We ride
on a lot of highways, and the truck tires leave little strands of wire
strewn about. they get into the tires and wriggle their way into the tubes
and eventually flat you...OK they haven't flatted me yet, but the king is
getting quite good at changing a tire.

5 15
42 miles from Buckhorn to a lovely KOA campground in Silver City.

This is a layover day for us and the people here have been most kind. I am
using their office computer to write this. We crossed the Continental
Divide yesterday, and frankly after where we've been, it wasn't that big of
a deal. It was good to layover though and give the tired legs a rest, and
we drove to Gila Wilderness Park, which seemed a lot more fun than riding
there. The nights in the higher elevations are cool...48 degrees or so each
night...but it's a dry cold.
Anyhow, will send what I can when I can. Miss you all already...am not
dead...Will send pictures when I can one way or another.

Rev Ray

Greetings from very sunny Texas. We crossed into El Paso this afternoon and will continue through town for a while to get to a campground. Thought as long as I was passing a library I would send what I had so far.

5 17 53 unbelievably hilly miles from Silver City NM to Hillsboro NM

Today we began our ride at about 5000 feet, dropped down to about 2500 feet into a valley so deep and wooded with pines that we couldn't see the sky above us. It was as humbling for a cyclist as watching the billions of stars on a dark night. We knew we were going to climb a whole lot to get out of there, but we couldn't see how, literally.

Climb we did. Emery Pass is at 8228 feet so it didn't take us long to see we had no place to go but "up".

There is no way to describe adequately, or take enough pictures in order to accurately portray the awesome vistas we saw this day at every turn and switchback, in every direction we looked. This was possibly the most difficult, most beautiful day I have ever spent on a bicycle.
Arrived in a tiny town called Hillsboro, and stayed in a motel there for the night. It's a very cute little town, but it doesn't open until 11:00AM and it virtually closes at 3:00 PM. Interesting.

5 18 65 miles from Hillsboro to Radium Springs NM

Today was pretty much the opposite of what yesterday was. We rode on pretty flat farmland most of the day and there wasn't much to see. We passed eventually from irrigated farmland to desert and in the lower elevations it got hot! We ended up at a lovely state campground in Radium Springs (I have no idea why they call it Radium Springs, but I didn't drink the water just in case), and got good night's sleep.

Now we will ride through El Paso and meet up with the girls and doggies for the night.

Will send more when I can get access. Libraries here are far and few between outside of the cities, and not all of them have access.

Grace and peace: Rev Ray

5 20 04
Hi gang:

last night we discovered just how much fun a dust storm is in a pop-up! We
have sand everywhere. El Paso isn't the greatest place to be if you ask me,
and we were in a little dirt-hole of a campground we fortunately didn't see
due to flying dust. Both bikes were duly sandblasted by morning and needed
a lot of lube and various work to get going again.

Today we rode 83 miles to Sierra Blanca; a long ride but a pretty easy day
terrain-wise. The only thing there was to see today really was rattlesnakes.
We saw dozens of them, some dead, a lot not. The other highlight was that
David had flat number 7 at some truck stop. I have a picture of him
changing his tire next to the wooden Indians. David 7, me 0.

Have been reading the emails from all on the web page when I can. We love
them all. The food ranges from cold chili dogs from convenience joints
without microwaves, to steaks when we can find a good restaurant. Mostly we
cook stuff at the campsite, like chicken, spaghetti, usual stuff.

Will send pics hopefully in the next few weeks if I can, they will be dated
and I hope they won't be too hard to plug in good places. Other than all
that and the heat again now that we are in lower elevations, all is going
decently.
Peace
Rev Ray

Hi gang:

I don't remember when I last sent anything out. I think it was the day David had the flat tire by the wooden Indians (Picture is coming soon I hope, of David and his wooden Indians). As it turns out, he did not in fact have one flat tire, he had two. It's just that it took until evening for the rear tire to go flat from the wire stuck in the tire. There's been so many flat tires that I've lost count. I guess that's why he's the king.

The next night, I think, (Today is the 24th), we stayed in Sierra Blanca, which was very nice, for Texas. The place we stayed had a card that read,
"The Sierra Motel, in W. Texas, where if it doesn't stick you or sting you, if it doesn't burn you or bite you, then it's a rock."

We have been out for three weeks now, and have not had a drop of rain. In fact we are just now getting into an area where there is enough humidity to have any dewfall. That will change as we get into the Southeast I am sure.

Someone has asked about animals on the road in the mail you all have sent. On the road we have seen all kinds of critters, mostly rattlesnakes. Two days ago I saw a wolf the size of a deer walking across the road in front of us. I have never seen a real-live wolf before. They are really huge!

We have seen deer, roadrunners, (They don't look a bit like the one in the cartoon), lizards that run on two feet, four feet, lizards of all sorts.

At camp two nights ago we were visited in the night by skunks, raccoons, who got into our food, and a havelina, which is a really stinky sort of wild boar.

Most of these creatures aren't a threat I think, as long as we don't start poking any of them. Lew would love it out here. There are so many birds with so beautiful, different songs they are really quite remarkable.

On the 22nd, we stayed in Fort Davis and we layed over a day there so we could recoup after a really long, hard day, and to see the observatory there.

Yesterday we rode to Marathon, which is basically nowhere 60-odd miles from Ft Davis, and today another 57 miles to Sanderson where we are currently camped.
It's hard to think that we're 1/3 done with the ride already. Late this week we hope to be close enough to central Texas to stop over at David's house, send Vernie and Peanut off home on Sunday and be off the road over Memorial Day.
If all that works out, then I will send as many pictures as I can from his house.

NEW PICTURES FROM RAY!!
(SENT 5/26/04)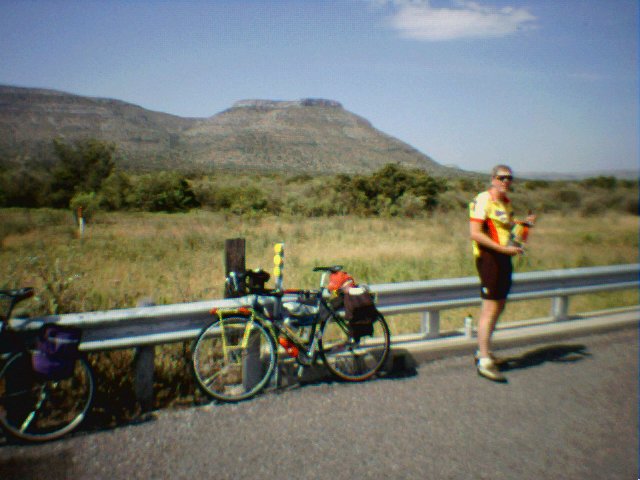 "Lunch"
This is where and how we have been eating lunch this past week; on the road eating what we have with us.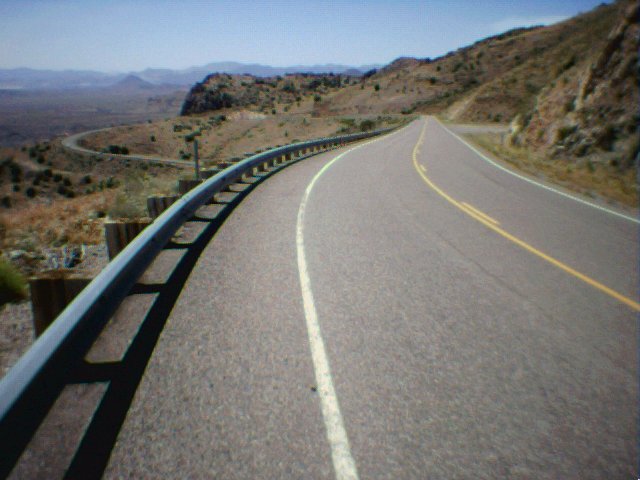 Black Canyon, AZ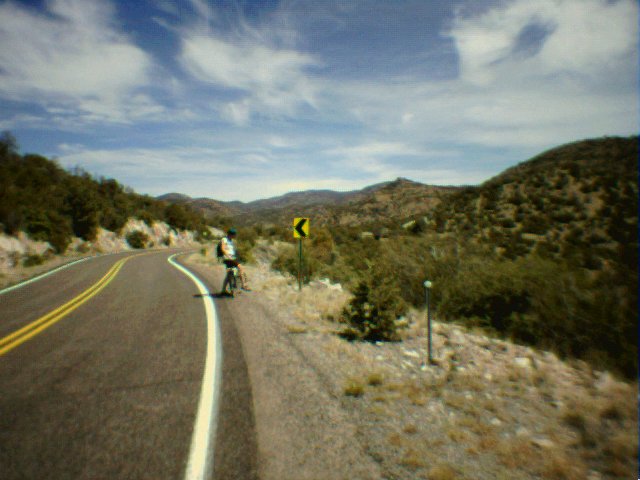 Climbing Emory Pass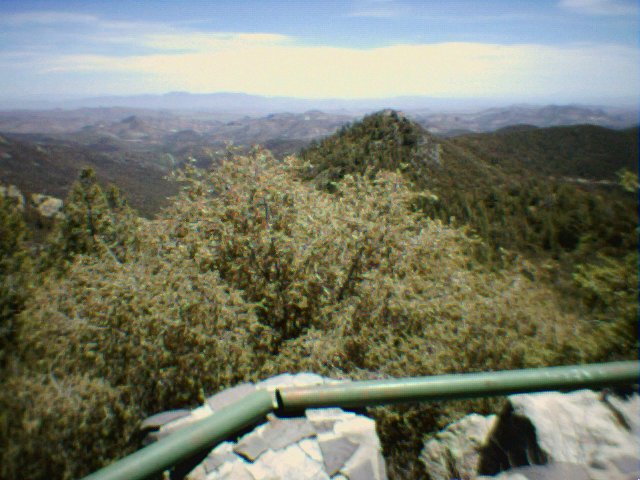 Emory Pass View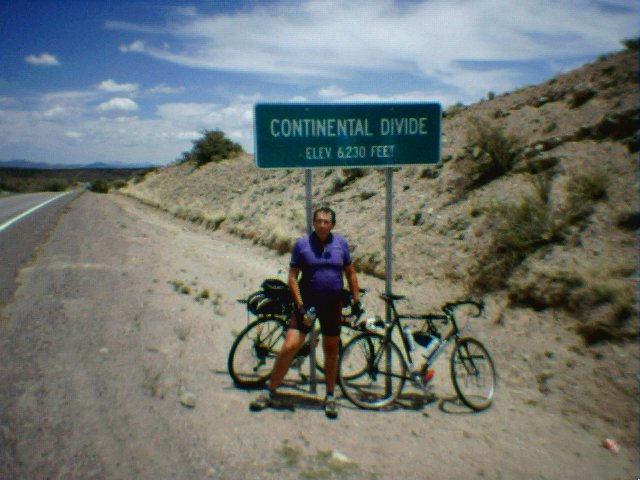 David at the Continental Divide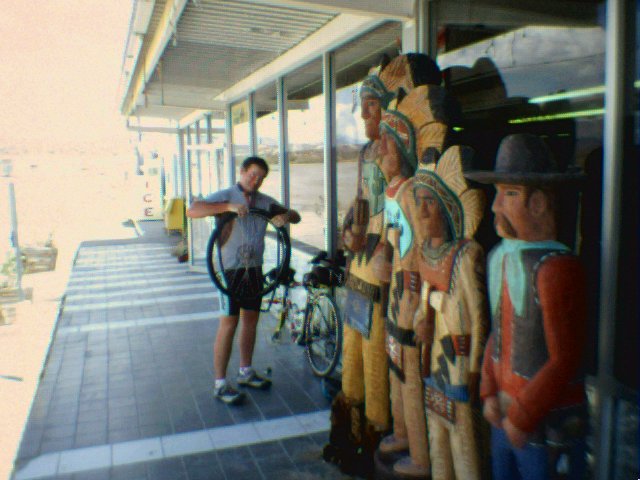 David changing another flat with the wooden Indians.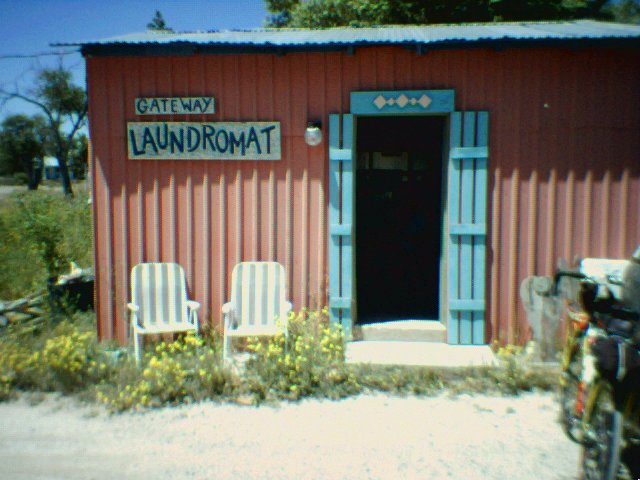 Marathon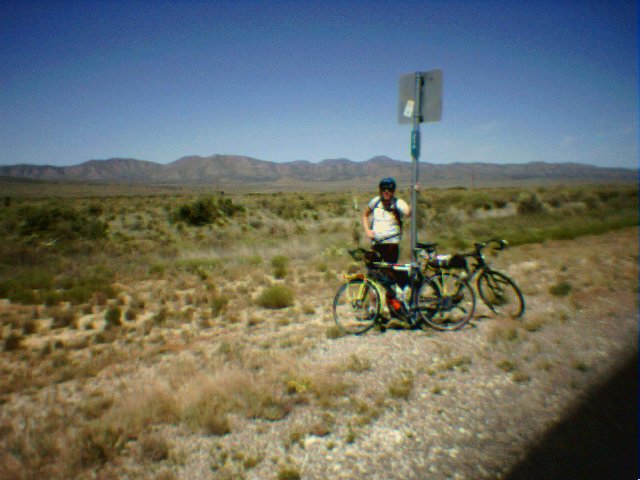 Rt. 90 8 miles west of 385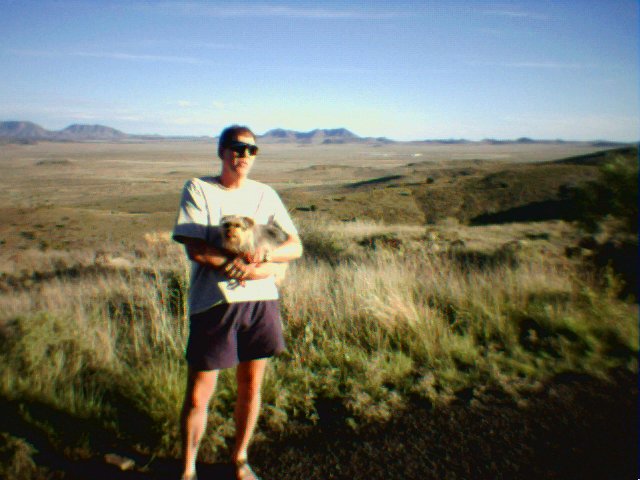 Peanut and Ray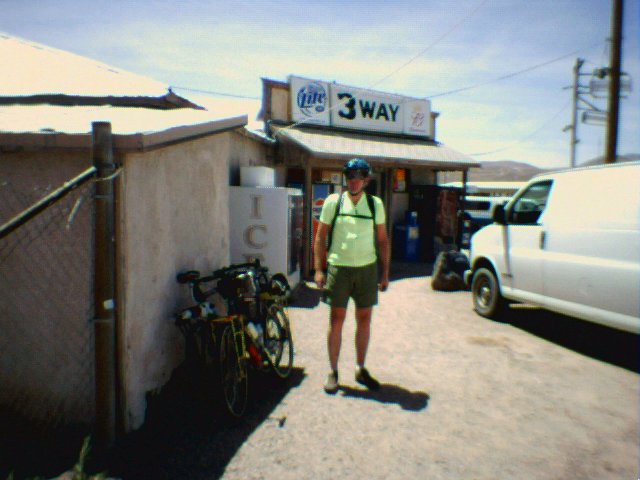 This is a picture of me near the only building there is in Threeway.
What Touring Looks Like!
5 25 04
I love reading your messages when I can get them, but remember that the entire world can also read them! Also, with my PDA out of service, I have no #'s or email addresses with me. It isn't that I do not want to respond, I most often have no way to respond. Many of the towns in the Southwest not only don't have libraries or cell service, they don't have sewer systems, T.V., radio, or much else for that matter. We really do greatly appreciate viewing your messages when we get a chance, and it makes me feel closer to home.
Ray

5 26 04
Hi gang:

It is now the 26th of May, and we are in Corpus Christi; nowhere on the
route by any means.
David and Maddrey's dog, Zanna is sick and Maddrey wanted to get her home to her vet ASAP after not digesting a large steak bone. As it turns out, Zanna will be fine and this too shall pass. But she is a pretty sick puppy and we were all concerned for her.
We are now days ahead of where we wanted to be, but about 400 miles off course. We will spend some time today scraping the crud off our bikes, our clothes and ourselves, and then figure out how we are going to get back on the route and on schedule again. We really are not all that excited about being en route over the holiday, but I do have to in Mobile by mid June in order to fly out and do a wedding. Well, we've figured it out and made it this far, we're not going to let a little gastronomic distress stop us now.

It is amazing how every mountain ridge and every valley offers something
distinctly different. It's as if every mountaintop is the boundary for a whole different world. The plant-life, or lack of it, terrain, soil, animals, everything is so different from one mile to the next. It's funny. There is on the surface nothing to see. And yet each look up is a new vista full of wonderment. I know now why the song says, "Purple mountains majesty". As the sun sets in the desert, the mountains take on the hue of royalty, and they are something to behold.

Jesus said, "If you have faith, you can move mountains". At first I tried
to conquer the mountain. But I couldn't. There are too many of them and
they are way too big. Instead I gave up and let them move me. In that
humbling experience you learn about yourself, your God, and your
environment, and then the mountains don't exactly melt away, but they become
far more moveable. The first day, on May 3rd we climbed 5000 vertical feet,
and we thought that was bone-crushing. Since then we have climbed to 8228
vertical feet and actually enjoyed it.

Well, I have a lot of sand to sift out of my shorts, so I'll close.
Grace and Peace: Rev Ray


New Pictures 5/27/04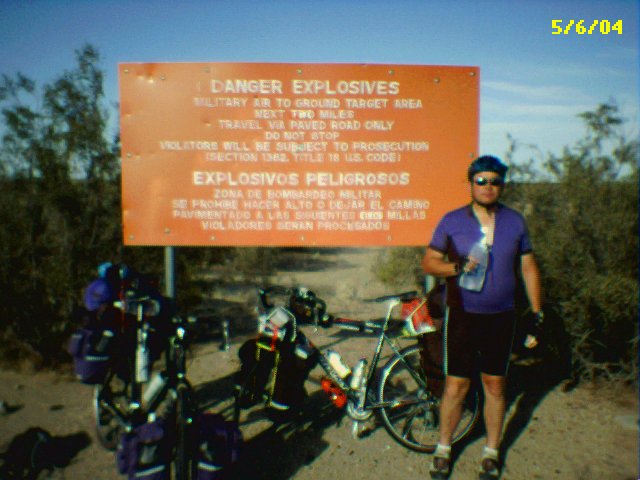 "Bomb Fun"
A bombing range we rode through in the desert the first week or so.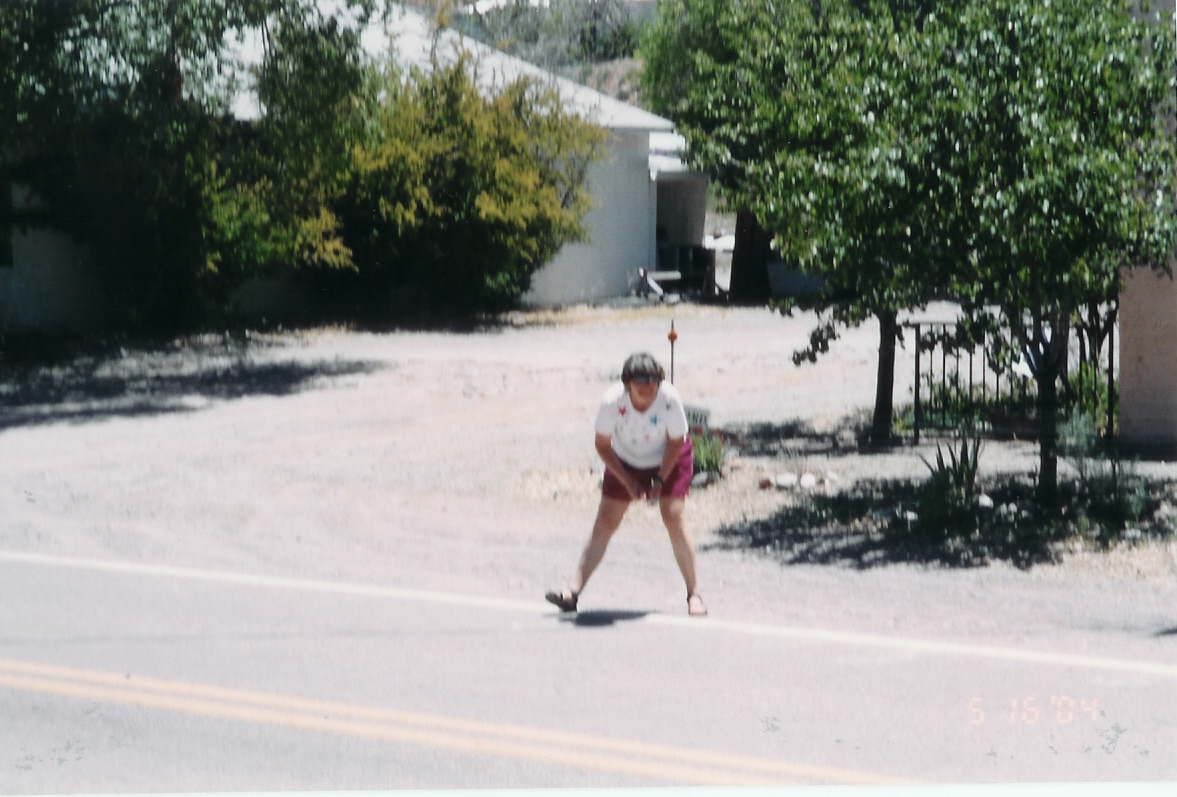 "Leaving a Message"
Vernice writing chalks directions to us on the street. Our phones don't work often, and we don't know where the girls will set up, so Vernie leaves us chalk notes so we can find them.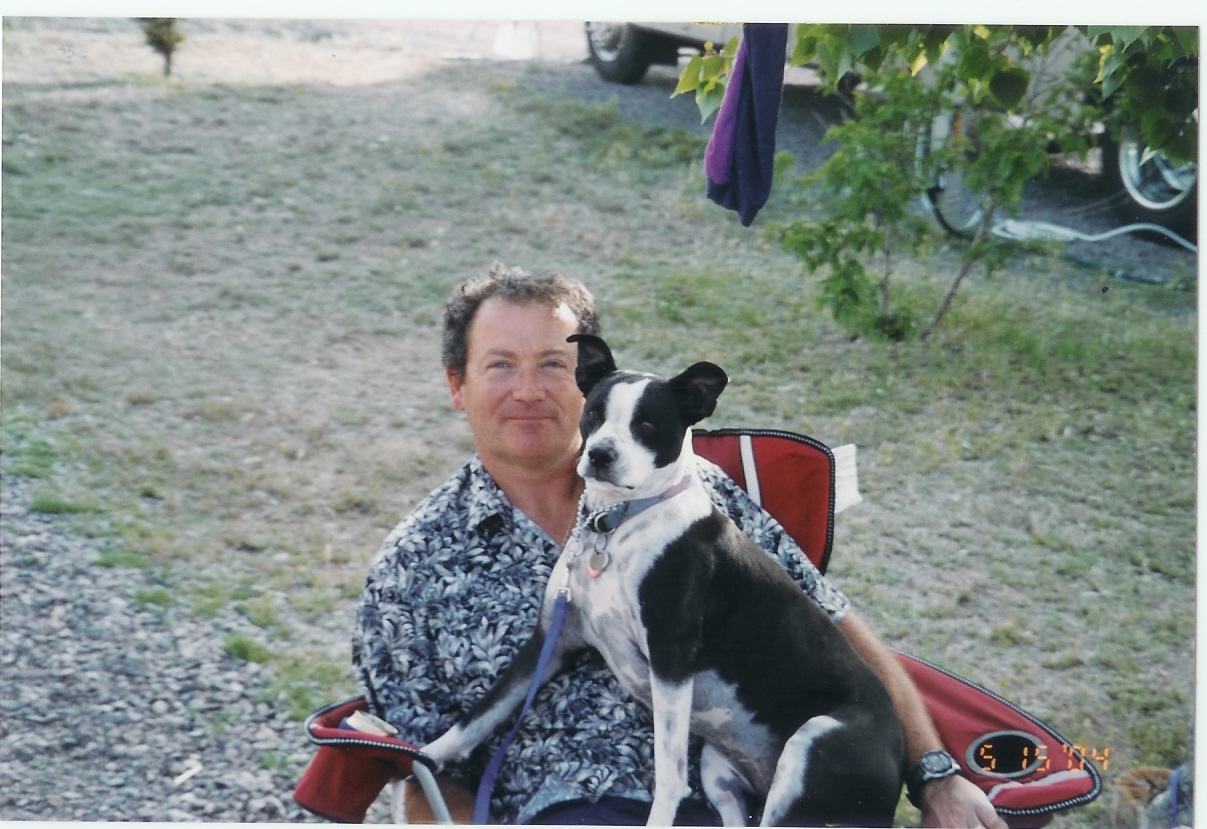 "He is in MY Seat!"
The dog is Zanna before she got sick. She is doing better today.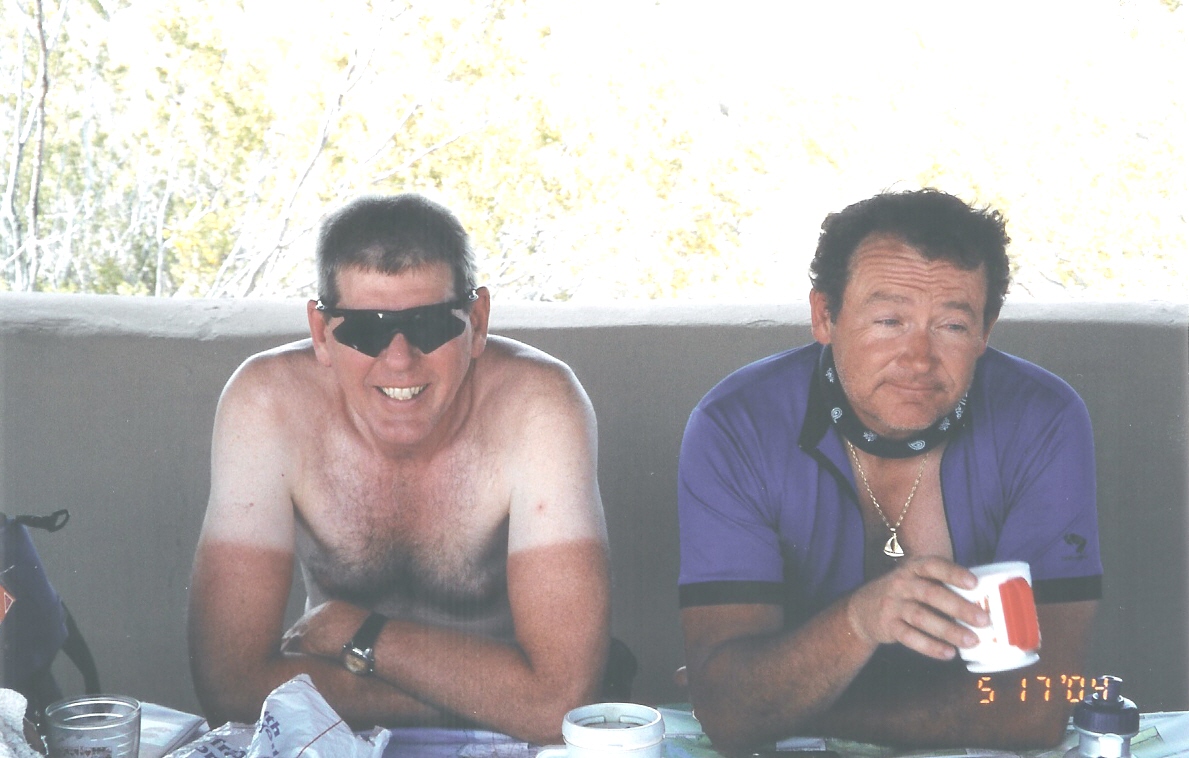 "Tired Puppies"
Radiup Springs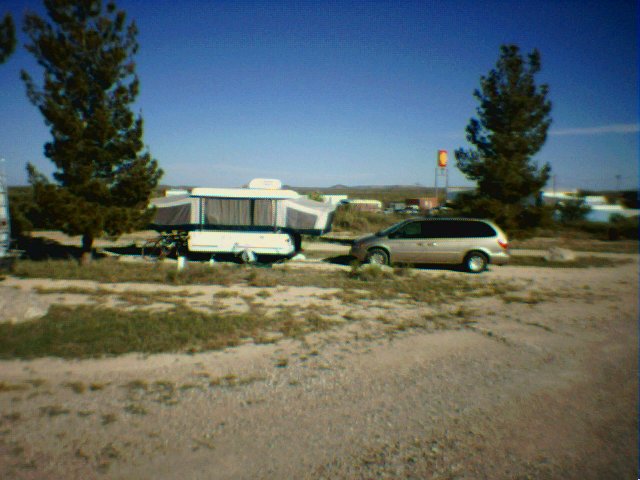 Marathon, TX Campsite
5 28 04
Hi gang:
There are some who want to know what this past two weeks has been like for the wives. We all get up just before or at sunrise to begin taking down the pop-up and getting packed up so David and I can get on the road before it gets too hot. The sun rises at different times depending on where we are in different time zones. We eat a light breakfast, pack and hook up the trailer, get our water and day's needs on the bikes and we leave. Maddrey, (Dave's wife) drives the minivan with the pop-up to our next town, Vernice navigates, and they find a campground.
There they disconnect, and hand-crank up the pop-up, go to the store and buy provisions for the day. Remember, there really aren't any stores bigger than gas stations, so even that is a challenge. It has been a lot of work for them, but a great help to us because without the pop-up and SAG support, we would have had to carry all our gear, find food and shelter by bicycle alone and that would have made the long mileage days impossible.
To say the wives enjoyed this, would likely be an exaggeration. But, except for the setting up the pop-up every day, I think they had fun generally. It was good having them with us for this leg of our journey.
When we leave again Monday, we will be on our own, loaded with all our gear. One adventure ends and another begins.
Rev Ray

5 30 04
Last update before we hit the road again-
Hi gang:
Well, Vernice and Peanut are on their way home, and tomorrow David and I head to Comfort, TX to ride phase-two of our adventure.
During this layover we thought we would take a cue from the youth at Island In The Son and see if there was a record for the most flat tires at Guinness. As it turns out, there are no records listed for such a thing......yet.
We (I) registered David and we'll see if they deem it worthy of recording. So keep those flats coming, David; they might make you famous.
Will be sending other updates via libraries when I can again. Keep us in your prayers, as we keep you all in ours.
Rev Ray

June 1
73.5 miles on one very hot, very pretty day. Today we are in the hill country. We left Comfort this morning loaded with all our gear and no wives to set up camp for us.
Today was a lot like riding in Wayne/Holmes counties, hilly but rolling. The Locust trees here are Mesquite, but it was a lot like home.

We had a long day planned, and were really glad to come to our overnight town, Wimberly. The problem is that the campground we planned on staying at closed. A second camp we rode some distance to had no facilities for tent campers.

After multiple trips from one end of town to the other (It isn't all that great of a town), we are in a motel and really beat. Hopefully tomorrow won't be any farther than the planned 70 miles.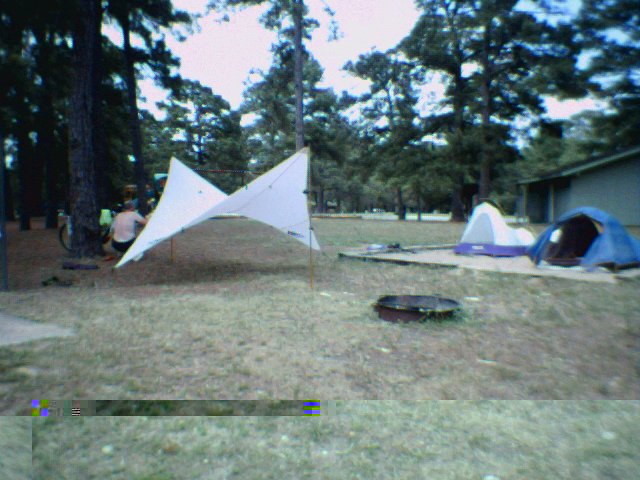 Hi gang:
70 miles today from Wimberly to Bastrop.
Pretty much all it was, was a bike ride to get someplace. We didn't take any pictures on the road today because there wasn't anything out there.
This is a picture of tonight's camp in Bastrop.


Updates for 6/4/04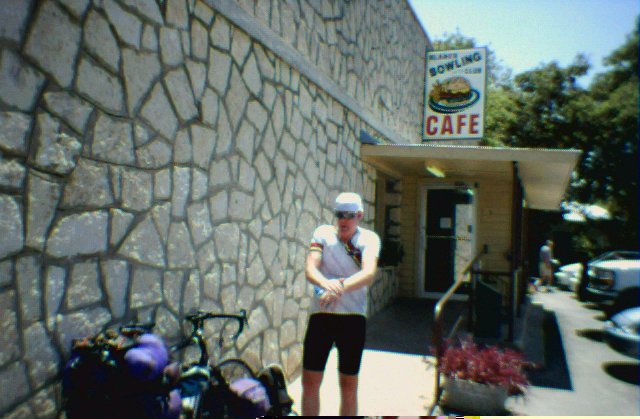 "Best Eats in Blanco"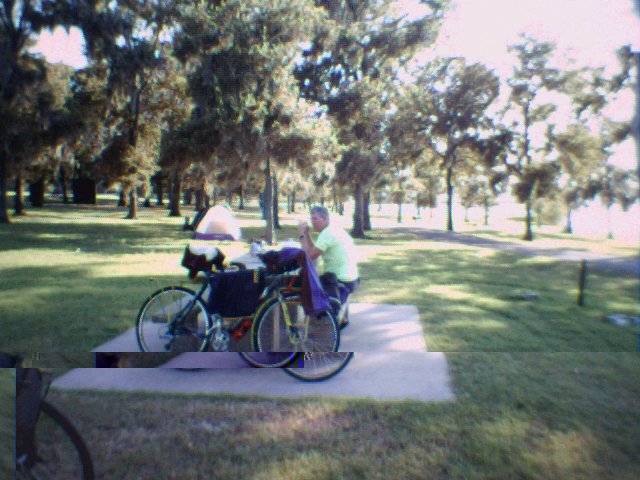 Rocky Creek Park
6 4 04
Here we are at Rocky Creek Park on Sommerville Lake. Rode 66 miles after our first rain of the trip. We got a good rain last night, but it cleared up nicely by the time we left at 6:45am. The best part was it knocked the humidity down for today.

More challenges today. Tuesday I had to cancel my credit card after someone took my number and bought a $875 coffee maker. Today I discovered my debit, and only other card expired the end of May. I would consider selling my body but at this point my body isn't in all that great shape. At least I haven't had 8 flats.
Ray

6-5-04
Hi gang:
Didn't get a chance to send yesterday due to high mileage, thunderstorms, and various and other challenges throughout the day. We ended up riding 80 miles from wherever on earth we were, to literally no place in the middle of Sam Houston Ntl. forest. We had rain coming in the afternoon and could see it was going to get worse, so we pulled into a quite quaint and primitive patch of pines and set up quickly just before a five-hour deluge and thunder-fest.

There was no water, toilets, light, or anything else but bugs, but we had water with us, and we ate some beef jerky for dinner, and went to bed due to lack of other options. Truth is, we needed the rest. We are now in Cold
Spring TX at the library, and plan to camp at Romayor tonight.

Have solved the money flow problem. David gives me money...and I spend it. Am trying to figure out how to make this a permanent arrangement.

Also, I can't write it now, but when I get home someone remind me about, "There's no such thing as a free peach cobbler."

Christen, won't be going through Pennsylvania, but can hear you and your mom rooting for us from here.

Bad news on the flat tire front. Since we (I) have registered David with the Guinness people, he hasn't had a single flat! Figures. We're making better time, but not going to set any records that way.

Will send pictures later if I have a signal.
Rev Ray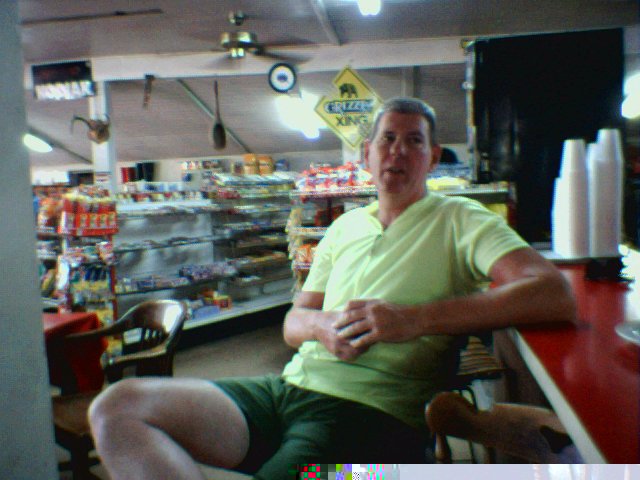 Sunday Brunch, Honey Island, TX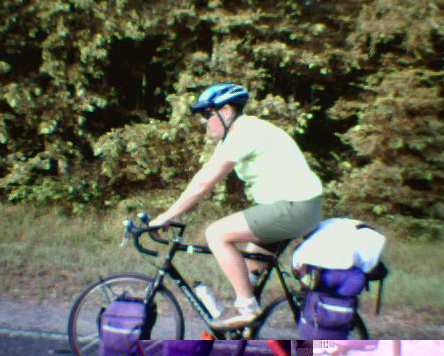 Sunday Ride, Laundry Day.
6-6
Hi gang:
I don't remember when I wrote last, but we are now in a motel in Silsbee, TX after spending last night in a camp at Romayor. Yesterday was a 71.5 mile day, but today was an easy 56 miles. It gives us a chance to rest up before tomorrow's 80 mile day.

I have discovered that as much as I like getting away and bicycle-touring, there is a limit to everything. I miss Vernie and Peanut. I haven't driven a car since May 2. We are in wet, humid weather now, and I have saddle sores. There's only so much fun a person can enjoy.

Interestingly enough, I haven't had to use my Nexium in a week in spite of some very interesting meals. One morning David and I had a brat wrapped in a piece of cheese and baked in a biscuit! And I didn't need a single tum!

6-11-04
An earlier Message from Vernice:
Ray and David are fine. They are in Louisiana now but continue to have a hard time getting a cell phone signal to send messages out. They hope that in the next day or so they will be in an area where they can. Ray did have a mishap the other day. He broke his rear wheel. He was driven around by a very kind hotel owner (who by the way was originally from Parma!!!!) to a bicycle shop. He had to purchase new wheels that aren't exactly what he would have liked to have but they are working. David and Ray spent that day repairing bikes and are now back on the road someplace in Louisiana.
Later...Now from Ray:
6/11/04
Bad Day(s) at blackrock
Yesterday was an interesting one, but nothing compared to today. 2 miles out of Silsbee, David broke a spoke. We got that replaced after some ado, at which point I ran over a huge hunk of wire that stuck immediately in my tire - and later David got a flat. I get a wire in my tire and David gets flat number 9!
Last night we camped in Maryville, LA.

On the way today I got my paybacks. No, no flat... broken rim. We carry a lot of extra stuff with us, but not that much! I managed to get a great guy to SAG me to Oberlin, LA where I got a ride to the nearest bike shop in Lake Charles 50 miles away, and bought a not-good-enough replacement wheelset.

Tomorrow we will lay over, rebuild my bike, send home all nonessential gear, and try to go on.

Sure made for an especially interesting day.

?Back in the saddle?
Well, after a day of work and frustration, and $300 I don't have, tomorrow we'll be back on the road. The replacement wheels are not meant for touring and are pretty light, but it's what they had. Consequently I have shipped home all non-essential excess weight. I hope these get me through OK.

A few other things; the other day when we camped in Romayor there were little ponds around all the primitive campsites. As it turns out each little pond had it's own alligator. We got a picture of ours, but it didn't come out so well.

Also, we now have nearly daily rains in then bayou-country. The temperatures are down to the low 90's but the humidity is that high as well. But it's a wet heat.
Another Update
Haven't been able to get calls out lately. Apparently Louisiana doesn't like Verizon.

We are in St. Francisville across the Mississippi. Will send pictures when I can. New wheels are holding up so far.
Ray
Last Minute Update
Hi gang:
Just a last minute update. David had flat number 10 today, but it was a nice flat; it waited to go all the way down until we got to St. Francisville.

Also, the other day we passed a shack with a sign out front that read, "Mom's gifts and flea market
cockfights on Sunday nights." Honestly.

Lastly, at the store tonight we saw, "Family pack, pickled pigs tails."
I'm getting to the point where I really miss home. I guess that's why you go away.

Everywhere we go the food is fried. Fried chicken, pork, beef, potatoes, okra, cheese, pig tails...you name it, it's fried. Apparently these people don't know how to broil or sauté anything.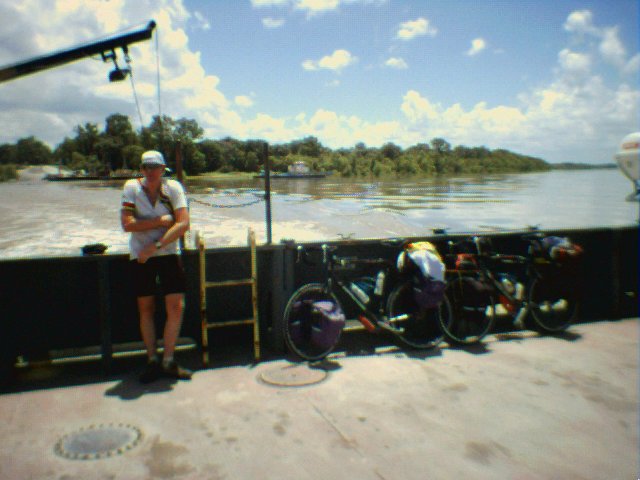 Crossing Mississippi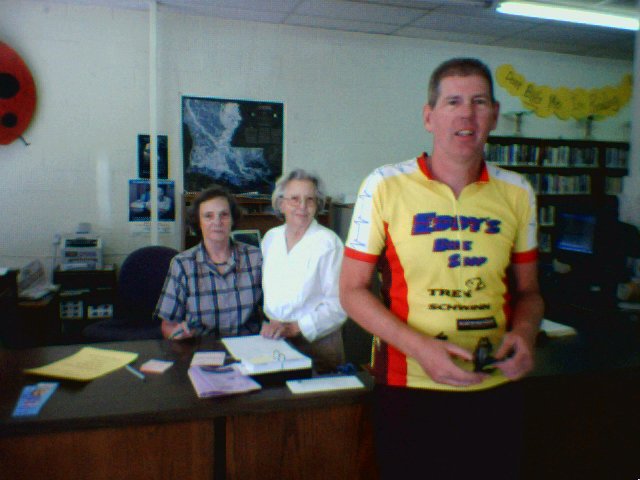 Greensburg, LA
To two wonderful ladies, Estelle Adams & Martina Hall, at the St. Helena Parish Library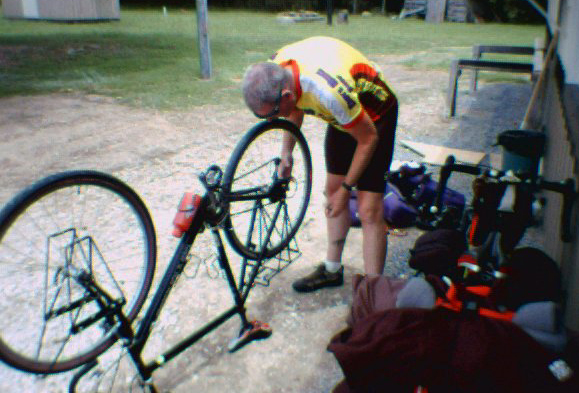 A Day of Helplessness, Broken Wheel
6-12-04
Hi gang:

We are working our way through Louisiana, and are currently looking for a
place to stay about 40 miles from Bogalousa. The next few days will take us
through Mississippi, and there isn't much out there but forestry camps, and
roadside stops. But we are prepared as we can be, and barring any
complications, we will be fine.

If I ever get to an area where my cell is in network, I'll send along a few
pictures.
Rev Ray

Not sure if last night's email got through, but David had his 10th flat
yesterday. It was a good flat though, it had a slow leak that allowed us to
get in before it gave up.

Today I had my first flat of the ride so far. It too was a nice flat
though. It was a slow leak that let us get in to Amite, LA before it gave
out. Also had my first taste of boudine today. It's a sausage casing
stuffed with rice, crawfish, various guts, and highly seasoned. It's really
quite good, especially if you're starving.

We have less than 1000 miles to go, but the Mississippi stage will be
difficult. Short day tomorrow though, so we can get a chance to recoup a
bit before we head into the wilderness.
Rev Ray

6-14-04
Hi gang:

Well we are no longer in Louisiana. This morning we left Bogalusa and rode
to Wiggins, Mississippi. Bogalusa was not our favorite town so far,
although they do have a lovely buffet place that we did our best at after a
65 mile day.

Shorter day today, about 50 miles, but a tough one. We are in the middle of
a tropical depression and we had light steady rain, headwinds, no berm at
all on rough roads with lots of logging traffic. It was so rough that I was
forced to ease over every crack with the new light-weight wheels so as to
not breakdown out here.

It appears this will be the way it will be for the week though, as MI is so
impoverished that the roads are bound to be narrow and in poor shape, and
the weather looks like storms every day. Oh well.

On a slightly different note, I read in the ABJ article that so far we have
raised about $1800 for juvenile diabetes. ?!$1800?! I spent that much
out-of-pocket before this trip to get things ready for it! I could've just
cut the check myself and gone for a little bike ride. I know there are a
lot of you out there, and I know you know others out there who know people
affected with this horrible disease.
Over 17 million Americans have diabetes. 35 children every day are diagnosed
with Type 1 diabetes (that is 1 in every 400 children) and someone is
diagnosed every hour. Diabetes kills one American every three minutes.
For goodness sake, eat one less meal at the fast-food joint and cut a check!

The sights are about the same in this entire section. Pines, hills, logging
trucks, rain. Hope to be in Mobile by Wed night. Will lay over and get
ready for the wedding then.

Will write again when I can.
Grace and Peace
Rev Ray
(Update from Stephanie: The total contribution to JDRF is now up to $2300.00! Thank You to everyone who has responded! I appreciate every dollar great or small. We are getting closer to our goal with each dollar that is sent. Now, more than ever, you can make a crucial difference. Won't you please give to JDRF as generously as possible? Together, we can make the cure a reality!)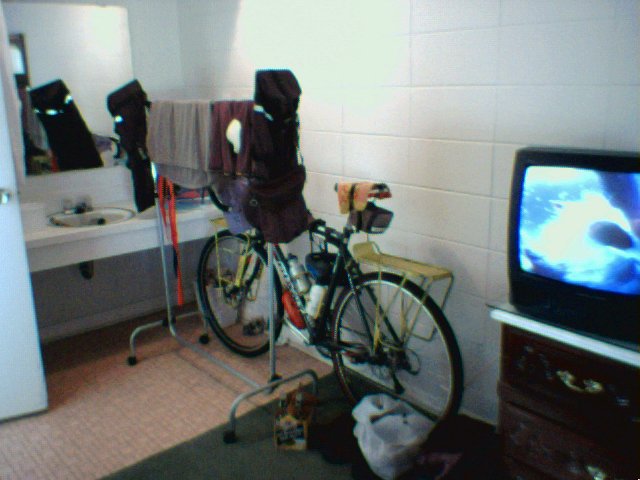 Scenic View Motel-Drying Out in Mobile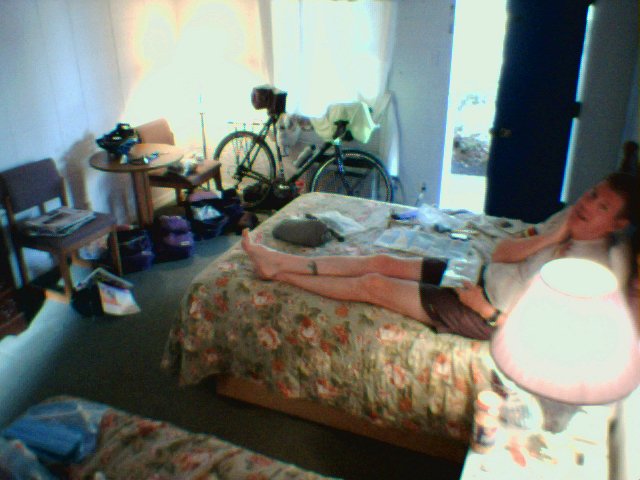 Mobile Rainy Day
6-15-04
Well, after a nice day in Wiggins, MS and after two not-nice days on SR 26, we decided to ride on to Mobile. It was a tough decision that made for a tough day. No berms, LOTS of truck traffic, and 72 miles of it the last 15 miles of which was ridden in a driving downpour.
It was a tough day to be sure, but we are within 40 miles of where we wanted to be for the wedding layover.
It's amazing how much you miss simple things. We often have to eat what we can find when we can find it. A chili dog in a bag is a typical breakfast. Yesterday morning I was mentioning to David how I would love to have sushi or anything not fried.
Lo and behold, at a Chinese place in Wiggins we had nice sushi!
¿See how God is?

6/17/04
Well, it was a pretty long, short day. All we had to do was go from W. Mobile to E. Mobile so we can layover. It was only a 36 mile day, made a bit longer when David broke another spoke on the rear. He tried to ride it in even so, but then also had HIS 11th FLAT on the rear so we stopped and replaced his totally worn out tire and his spoke. After rebuilding David's rear wheel we rode in to where we will be until I do April's wedding and we can get back on the road and through FLA.

So far we have gone through 5 tires, one entire wheel, two spokes, many tubes, three patch kits, and lost a couple screws, (Careful).
Ray

6/20/04
Today is Sunday, the 20th. I am in Columbus, OH. The wedding is over, and waiting to fly back to Mobile so tomorrow we can begin the last leg of our journey. It has been a good experience, a once-in-a-lifetime experience, but I think both David and I are quite ready to be done.

We only have about 450 miles to go and, barring any difficulties, we hope to be done in a week. We really haven't had a lot of difficulties, but enough to be satisfied and not want any more. Will keep you posted.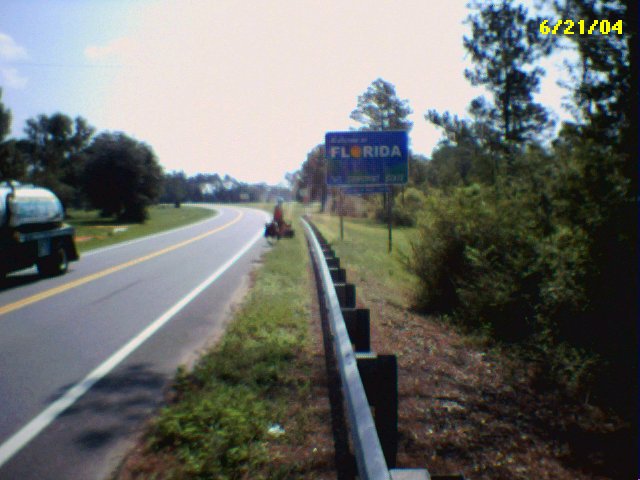 6/21/04
Well we're on the road again. Actually it felt really good to get back in the saddle. Once you get the bike set up how you want it, and get used to it, and get to a place where you can stay clean back there, it is the most comfortable seat in the house.

Today we rode about 60 miles from Fair Hope, AL to Milton, FL.
We passed right by the road where Ray & Betty Gipson lived in Robertsdale, and they have both been on my mind all day. They were both truly great people.

We dodged rain all day, and likely will continue to get wet everyday from here on. Fortunately you can only get so wet.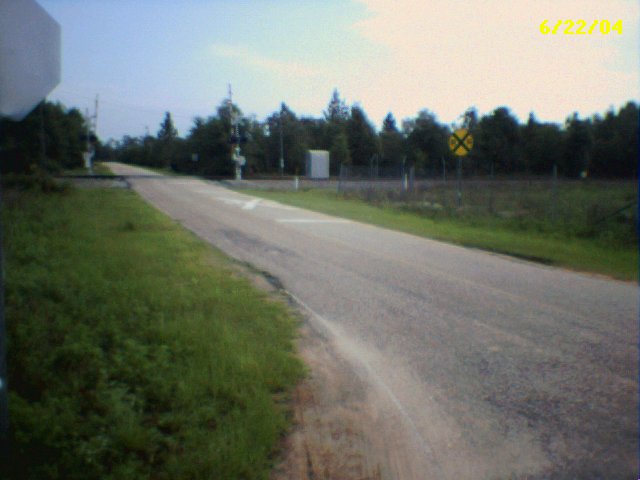 Tracks and Pines
6/22/04
Hi gang:
60 miles
Until today, we have been extremely lucky in regard to rain...
until today. And it looks as though we may as well get used to it. We had no rain at all for the first three weeks, and only a couple of rainy days in Texas. It rained yesterday, it rained all night, it rained today and it's still raining.

The forecast is pretty much the same every day, 90 degrees, 90% humidity, chance of rain.

The scenery forecast has been about the same as well. For the last 2 weeks, and I suspect for the rest of the trip, there's piney woods on one side of the road, railroad tracks on the other.

Normally that would seem nice, but after a solid month of it, it becomes just something to ride through. When it's pouring, you can't see anyhow.


¿Guess what? Today we are in De Funiak Springs (Still raining) at a little motel. This is the first time in my life I have been in a motel that has a coin-operated ice maker!
Amazing.

6/23/04
Hi gang:
We rode 82 miles today in the same piney woods with the same R.R. track on the same road. I would have taken a picture of it but the rain made it impossible. Just take a look at yesterday's pic and pretend it's today, then add rain.
We've been in rain and/or at least 90% humidity so long now that everything is perpetually mildewed. Our bags, shoes, clothes, towels, wallets, everything has a strong, sour mildew odor. It makes us really popular in restaurants.
We are in Chattahoochee now just West of Tallahassee. More rain, more mildew.
Oh yeah, I keep forgetting; tell Bobbie they sell Green Stripe in Alabama and they sell it cheap. I was going to bring her some, but it was getting heavy and I was forced to get rid of it ASAP. At least it didn't go to waste.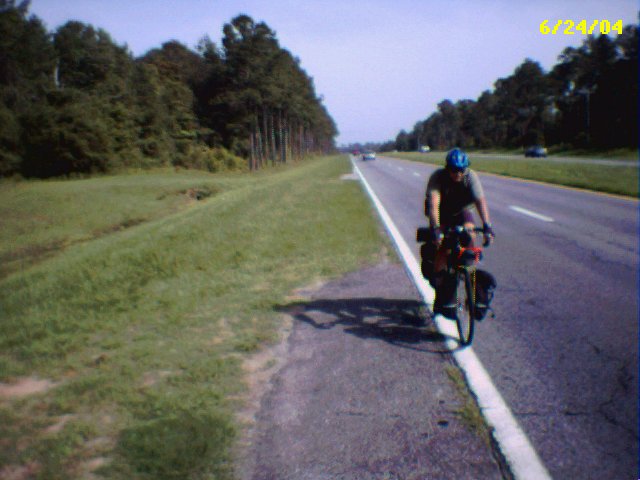 Pines and Sun
6/24/04
50 miles to the East side of Tallahasssee. This was a shorter day but a tough one nonetheless. Tallahassee is busy, no berms, and hilly.
The great part was that for the first time in days it didn't rain. The humidity was 93% but it didn't rain.
Will send a picture of today's vistas. Same pines, same R.R. track, only farther down the road and without rain.
The bikes are in terrible shape and need lots of cleaning, oil, air and really an overhaul they aren't going to get until we're done.
All they have to do is hold out a few more days.
And...I think David is working on a flat. He he he.

Addendum
I almost forgot two things.
The first is that today we saw a bunch of wild turkeys by the side of the road just gobbling away at us.
And at lunch (We eat "lunch" at about 9:00am. We get up at 5:00, have whatever for breakfast at 6:00 or so, and have lunch when we can find it.), we stopped at a little place. I ordered a burger and was informed that they were only cooking breakfast.
So I ordered pancakes from the menu, at which the waitress said, "The cook doesn't like to make pancakes, but she'll make french toast." I ordered a ham & cheese sandwich instead that took a half-hour to get. It just goes to show you that you shouldn't order what the cook doesn't want to make.

Also, in Holmes County, Fl the sign reads, "Home of T. Thomas Fortune". ¿Who IS T. Thomas Fortune?
Rev Ray

6/25/04
We got up early this morning as we knew we had an 80 mile day today. The ride from Tallahassee to Monticello was glorious. It was sunny with rolling hills and lilacs of all colors lining rt 90. It was quite lovely. Then it turned into pines R.R. Tracks; the usual. And then it rained. What a surprise.

We are going to the coast at Jacksonville rather than St. Augustine. It will put us back on schedule and it gets us near an airport.

The tires we have been using primarily are puncture-resistant tires made by Specialized called "Armadillos". They really ought to change their name.
We have seen a thousand armadillos on the road and everyone of them was flat.

Speaking of tires, David insists that he didn't have a flat yesterday...
..but he did. It was down to about 30lbs and had 2 wires in it when we changed it. That's a flat. There's been so many I've lost count. It's number 13 I think. He he.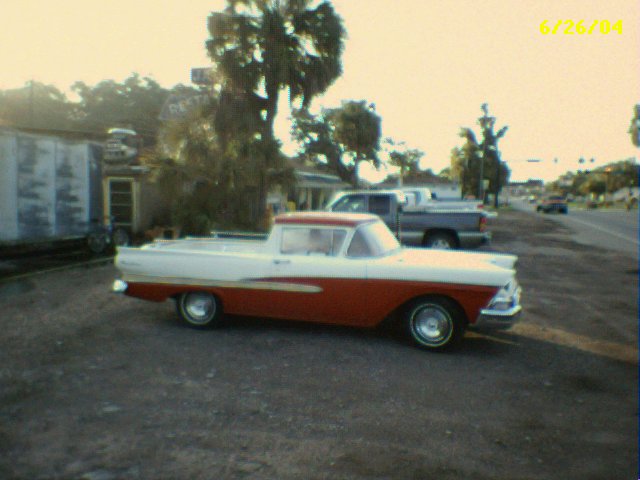 Jay's Diner in Live Oak
6/26/04
This morning at Jay's Diner we saw a wooden Indian out front - a real-live guy with tattoos all over his visible parts. He doesn't show up in the picture of the diner, but note the old Ranchero. If you ever go to Live Oak FL be sure to have breakfast at Jay's; it is quite an experience! Great food, interesting and happy people, and a real-live wooden Indian out front!
Rev Ray
A day with no rain! Everything else was pretty much the same as the rest; pines on one side of the road and R.R. tracks on the other. 68 miles to Baldwin, just West of Jacksonville.

We've been staying at motels since Mobile partly because of the heat and humidity, and partly because of the constant nightly rain. It is really hard to wake up refreshed and ready to go after squatting in a sweltering, coffin-sized tent in a 90 degree rain.

Our journey will be over in a couple of days. It's been so long I'm not sure what to think about almost being done. We have indeed had a once-in-a-lifetime experience, and it has been a good experience.
Dave and I have known each other literally since we were kids. We both got along great and I can't imagine a better riding partner for a trip like this. What with all the inevitable challenges it takes good people who can think clearly and get along.
But we're both ready to go home I am sure. There's only so many gas stations you look forward to eating breakfast in, only so much mold you can stand in your shoes, only so much hot water you can drink out of filthy bottles and a host of other delights. Especially now that the days are all pretty much the same.
A couple more days and I can get a ticket home. I can't wait to see Vernice and Peanut and drive a car again.
Ray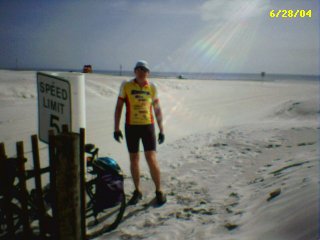 At the Atlantic
6/29/04
It is Finished
...And we nearly were on Monday on our way to the ocean. On Sunday morning we rode to and through downtown Jacksonville so as to be near the airport. That was about 40 miles to get there. It was a pretty easy ride through town as it was Sunday and there wasn't very little traffic.
On Monday then we rode 26 miles out to the ocean and the 26 miles back to finish off our ride. On the way out a truck intentionally nudged us both off the road and against a curb. It was a miracle that neither of us got hurt, because it certainly had all the elements of a huge disaster. Truth is, Jacksonville drivers on Monday were the worst to us so far on the entire journey. For the most part, motorists, and particularly truck drivers, have been very patient and kind to us. There have been a few close calls, and a few intentional brushes, but nothing like the one on Monday.
At any rate we are done. We have ridden some 2,800 miles form the Pacific to the Atlantic, having missed about 400 miles due to doggie gastronomic distress. We'll make those up at a later date. Some of the mileage got lost due to cycle-computer malfunctions. They don't work well in the rain, and I had to replace mine after the first week or two and missed a few days in between.
David and I got along quite well considering what we were doing and how long we were going to be together, and I can't imagine having done something like this with any one else.
By Wed. I should be back in Ohio, and my bike will go to Texas, get packed up and sent to me later. That's OK, I don't really want to see it again for a while anyhow.
I can't wait to get home and go to the gas station TO BUY GAS INSTEAD OF BREAKFAST AND LUNCH! When I get home I'll write a few thoughts down as a close. Right now all I want to do is go home.
Ray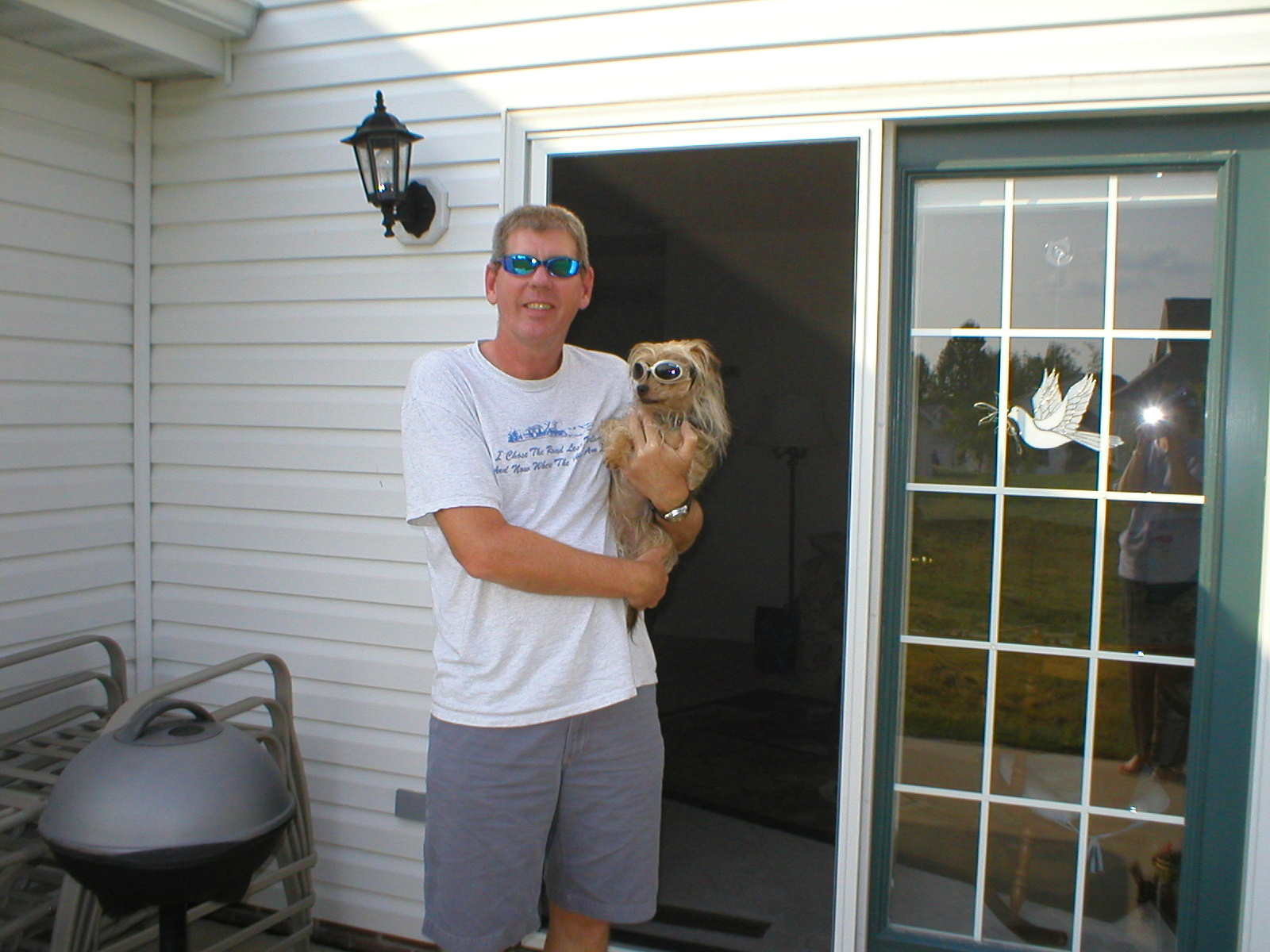 Home Not Alone
6/30/04
A couple of things come to mind if you are someone who is thinking of doing this "Southern Tier" bicycle trip.
First, do it in early Spring or late Fall. It was too hot and in the Gulf area too wet when we did it. We didn't have a choice really, but it would have been much more enjoyable to do it either earlier or later.
Secondly, don't wait too long to do it. Some of the little towns that you depend on to survive are just a breath away from being ghost towns and without them the trip becomes far more difficult.
The running joke was if the post office still had the wheels under it the town was in trouble. That's about how it is in many towns.
But if you want to really see our country one snake at a time, then this is the only way to go.
Thanks for following along, and don't forget the Juvenile Diabetes Fund! It's not too late to write a check. It's never too late.
Grace and Peace
Rev Ray