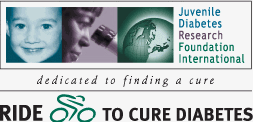 Dear Family & Friends, April 5, 2004
As many of you know, cycling is one of my favorite passions in life. During my sabbatical from Richfield UCC my brother–in-law and I will take a 3,500-mile journey starting in San Diego, CA and finishing in St. Augustine, FL. Although I do not have a direct connection to diabetes, I wanted to do something that would make a difference and be rewarding. I decided to incorporate support for research to find a cure for diabetes with my trip across America.
Four years ago I came to Richfield United Church of Christ where I had the privilege of meeting one little girl who has touched my life. Starting May 2nd and finishing the end of June I will be riding in honor of Stephanie Treubig, an 11-year old girl who lives with juvenile diabetes every day. Stephanie has been an inspiration to me and hundreds of citizens throughout the greater Cleveland, Akron/Canton communities. Stephanie works diligently to educate people around her about diabetes and is active in raising funds to benefit diabetes research. She mentors other newly diagnosed children and shares information about diabetes through her PowerPoint presentations and on her website (www.setforacure.org). Stephanie had the unique opportunity to participate in Children's Congress last June in Washington D.C. She was 1 of 200 young delegates from across America to testified in front of Congress asking lawmakers to increase funding that would have a direct benefit on diabetes research. Stephanie is no different from other kids her age. She likes to go horseback riding, play soccer, and loves her dog Chester. She looks like a normal child from the outside but she needs a cure.
Stephanie was diagnosed with juvenile diabetes (or Type 1) in August of 2000 at the age of 7. In the last four years, Stephanie has pricked her fingers over 10,000 times to test her sugar levels and has received over 3,385 shots of insulin. She sticks her fingertips with a needle 7-10 times a day to test her blood, then every time she puts something into her mouth she calculates the number of carbohydrates she is going to eat, and makes a life or death decision as to how much insulin she needs to stay alive. Many people think that because Stephanie has insulin she is spared the complications of diabetes, however, insulin is not a cure. Diabetes has devastating effects such as kidney failure, adult blindness, non-traumatic amputations, and is a major contributor to nerve damage, stroke and heart attacks.
Over 17 million Americans have diabetes. 35 children every day are diagnosed with Type 1 diabetes (that is 1 in every 400 children) and someone is diagnosed every hour. Diabetes kills one American every three minutes. I don't want to see Stephanie or any other child become another statistic – that is why I decided to have a fundraiser while I ride so I can do my part to help the thousands of children who suffer with this terrible disease.
Since its inception in 1970, the Juvenile Diabetes Research Foundation has provided over $600 million to diabetes research worldwide. JDRF is the leading nonprofit, non-governmental funder of diabetes research in the world, giving a remarkable 85 cents of every available dollar to the best research available.
Please help me as I ride toward a very realistic goal: a world free of diabetes. My plan is to raise $3,385, one dollar for every shot that Stephanie has taken over the last 3 years. Please help Stephanie and me pedal closer to a cure by sending a tax-deductible contribution made payable to JDRF in the enclosed addressed envelope. You can help us reach our goal by distributing this letter to anyone you know, asking them to join us and send a donation, or write a letter or announcement of your own to send out. Together we can find a cure.
With your help, I'm confident a cure for diabetes will be found within Stephanie's lifetime. Thank you in advance for your caring support. We hope you will join us in our quest for a cure. Be sure to check Stephanie's website at www.setforacure.org and the Richfield United Church of Christ web site at www.richfielducc.org for the latest on my trip. I will be sending photos for you to see along my journey.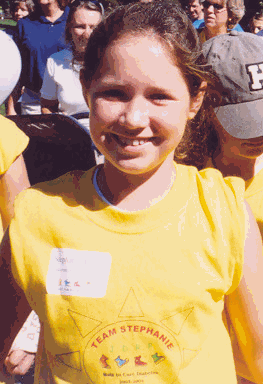 Stephanie 2003

I hope you are doing well and wish you a wonderful summer!

Sincerely,

Rev. Ray Deuring

JDRF Ride to Cure Diabetes

c/o Richfield United Church of Christ

4340 West Streetsboro Rd.

Richfield, Ohio 44286

PS: Any amount you can give will be greatly appreciated. And your contribution to JDRF is tax deductible!