Here is a map of the route that Ray and David are planning on taking. Below the map are some packing tips.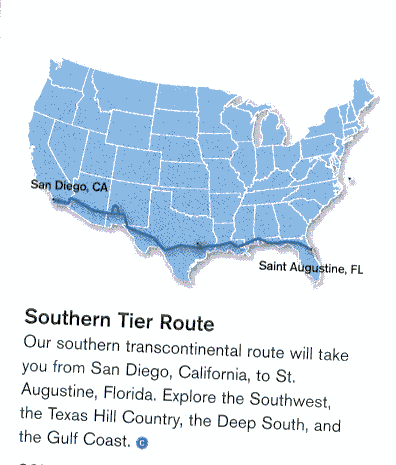 Clothing
Shoes
Don't dry soaked shoes near a heat source-it may cause them to shrink or become brittle.
Instead, remove the insoles and stuff the shoes with crumpled newspaper, changing it after a couple of hours.
Put thin, resilient insoles in your shoes to improve comfort and insulate your feet.
Helmets
Helmets shouldn't be tipped back, causing them to catch wind and expose the forehead. Adjust the four retention straps to have equal tension when the helmet is level.
In winter, wear a balaclava under your helmet. Hats are bulky and may require changing helmet pads.
Shorts and Tops
Always wear padded cycling shorts. The smooth leather chamois or synthetic liner will reduce chafing and increase comfort. Leave the tightie-whities in the drawer. No underwear should be worn with bike shorts because the seams will score you like ropes.
About 70 percent of the drag in cycling is caused by the wind resistance of the body. The best way to reduce this is to wear clothing made of a tight stretch fabric such as Lycra.
Night Riding
When out at night, wear white. Also, use clothing that has reflective stripes or panels. Look for reflective material on the heels of cycling shoes the next time you're shopping for a pair
Weather
Long-distance tourists should buy a rainsuit designed for cycling, which is more comfortable and protects against hypothermia even in the nastiest weather. Commuters can get by with just a poncho. If you don't have either and rain is possible, wear garments made of wool, polypropylene, or other materials that insulate when wet.
In hot weather, wear light-colored clothing. A white jersey will deflect a large portion of the sun's rays, and one made of a wicking material such as polypropylene will transport perspiration and enhance cooling by evaporation. Mesh panels can increase comfort by allowing more air to reach the skin.
Your hands and feet will be the first to complain about the cold. Protect your mitts by wearing gloves that contain an insulating material covered by a windblocker such as Gore-Tex. Neoprene booties and wool socks will stave off toe numbness.
Gloves
Other than a helmet, cycling gloves may be the most important safety item you can wear. They provide a nonslip grip, enable you to brush debris from spinning tires, allow you to wipe stinging sweat from your eyes, cushion your hands against road shock, and protect your palms when you reach I out during a fall-and some gloves have soft, terry-cloth backings to wipe your nose with.
Glasses
When purchasing riding glasses, try on lots of models and simulate different riding positions while wearing your helmet to check for an unobstructed, undistorted view. Wraparound lenses are best because they provide the most wind protection and don't interfere with peripheral vision.