Walk to Cure Diabetes
Corporate Recruitment Breakfast, Firestone Country Club
I interviewed Mr. John R. Cochran, Chairman and CEO of First Merit Corporation and Mr. Robert P. Brecht president, First Merit Southern Division at the JDRF CEO breakfast. Both men are the JDRF 2003 Walk to Cure Diabetes Corporate Recruitment Co-Chairmen. I am working on a JDRF Walk to Cure Diabetes documentary film. This was a lot of fun!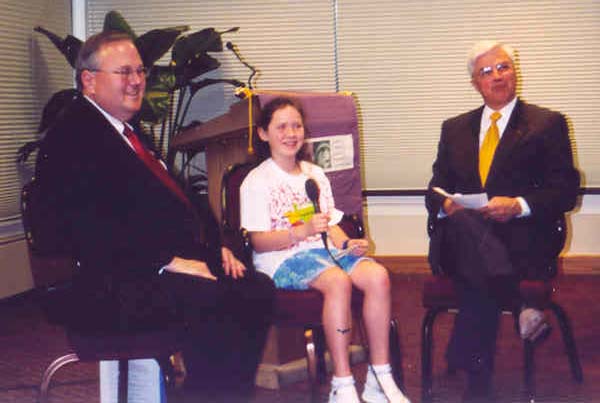 May 7, 2003


AN EVENT DESCRIPTION
WALK TO CURE DIABETES is the fastest growing fund raising event in the history of the Juvenile Diabetes Research Foundation (JDRF). In 2002, over 350,000 people "walked to cure diabetes" at one of 250 cities worldwide, involving more than 6,000 companies. Funds are raised as walkers ask friends, relatives, and co-workers to sponsor them for participating in the event. This year, JDRF anticipates raising $78 million from the Walk. JDRF has allocated more money to diabetes research than any other nonprofit, nongovernmental agency in the world ― more than $550 million since its inception.
THE JDRF AKRON/CANTON Walk is scheduled for Saturday, September 13, 2003 at the Pro Football Hall of Fame.

The Walk anticipates raising over $300,000 for diabetes research and is expecting 3,000 Walk participants.

Registration begins at 9:30 am and the Walk starts at 11:00 am.

The day will consist of a 4K walk from the Hall of Fame, through Stadium Park, into Monument Park, and returning to the Hall of Fame.

There will be clowns, jugglers, face painters, magicians, inflatable bouncers, entertainment, refreshments, and of course, the opportunity to view the exhibits of the Hall of Fame for free.
REGISTER FOR THE WALK ONLINE HERE or
call the local office at

1-888-718-3061 For more information go to www.jdrf.org.

You can walk as part of a Corporate Team, Family Team, School Team, or Individual.

We are within walking distance of a cure, please join us on Saturday, September 13 as we

Walk to Cure Diabetes

.
Or, join TEAM STEPHANIE here or send me an e-mail. We always have fun!
DIRECTIONS TO THE HALL OF FAME, take I-77 South to Fulton Rd. Exit. Turn left at the first light and the Hall of Fame is on the right. The address is 2121 George Halas Dr. NW, Canton, OH 44708. Limited parking is available at the Hall of Fame. Parking is available at Canton McKinley High School (behind the Hall of Fame) and on the various local streets that surround the Hall of Fame.
JDRF CORPORATE SPONSORS include companies such as UBS/PaineWebber, Marshalls, Walgreens, Advance Auto Parts, AT&T, Bayer Corporation, Blue Cross/Blue Shield, Coca-Cola, Delta Air Lines, Discover, Ford Motor Company, Olivio, Procter & Gamble, Quest Diagnostics, and Toys-R-US.
WHY JDRF?
JDRF was founded in 1970 by parents of children with diabetes. Their mission: to find a cure for diabetes and its complications through the support of research. JDRF is organized on a business-world model, a focus that has made it one of the nation's most cost-efficient charities, providing at least 87 cents of every available dollar to the most cutting-edge research worldwide.