Stephanie's Steamers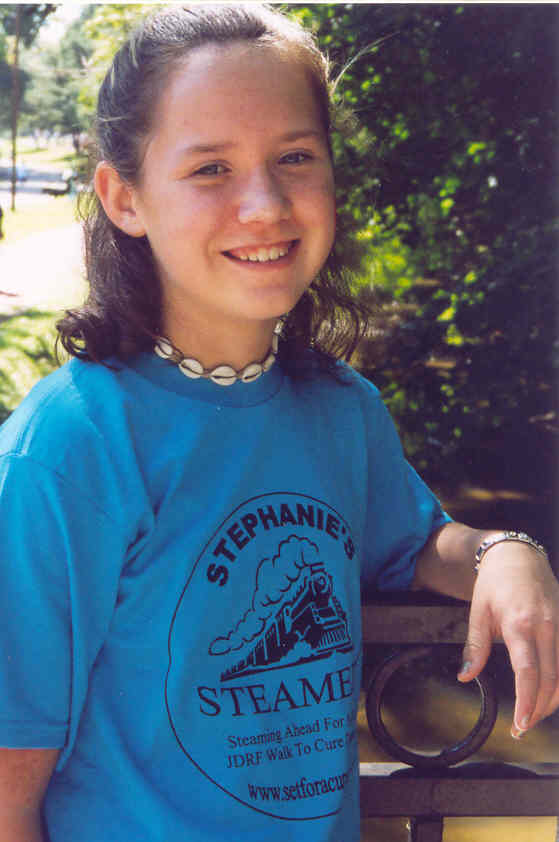 June 2005
Dear Family and Friends,
I am getting ready for another exciting JDRF Walk to Cure Diabetes season! As you may know I was diagnosed with juvenile diabetes August of 2000 at the age of 7. In the last five years I have pricked my fingers over 19,200 times to test my sugar levels and I have received over 6250 shots of insulin. I am not alone. Over one million people have Type 1 diabetes, thirty-five children every day are diagnosed with Type 1 diabetes and someone is diagnosed every hour. These numbers are increasing annually. That sounds awful, and it is – so that is why I am not giving up until there is a cure. I am still working very hard to educate people about diabetes and raise funds to benefit diabetes research. I have been mentoring other newly diagnosed kids and sharing my story with congressmen and senators, lobbing them to support beneficial legislation. I know I am making a difference because most congressmen support the laws I talk to them about and with your help I have raised lots of money for research.
The day I was diagnosed was a total shock. I went directly from the doctor's office to the ICU at the hospital and that's where I stayed for the next 3 days. I was not a happy camper to say the least. I couldn't believe that I was going to have to get shots for the rest of my life. The doctors told me that my pancreas had stopped producing insulin and would never start making it again. Once the doctors got my blood sugar under control they showed my parents and I how to keep me alive by balancing my food, exercise and insulin. I had to learn how to give myself injections and calculate carbohydrate servings. Now, four years later I still struggle every day to keep my blood sugar under control. I still don't like the shots or sticking a needle in my fingertips. I have to stick my fingertips with a needle 7-10 times a day to test my blood, calculate the number of carbohydrates I am going to eat every time I put something into my mouth and then I make a life or death decision to determine how much insulin I need. Every time I feel "low" and shaky I have to stop ridding my horse or playing baseball to have a snack so I don't pass out.
I look like a normal kid form the outside but I need a cure. Many people think that because I have insulin I will be spared the complications of diabetes. Contrary to that belief, insulin is not a cure. While insulin keeps me alive, it does not cure diabetes nor does it prevent its eventual and devastating effects. Diabetes kills one American every three minutes. It is the leading cause of kidney failure, adult blindness, and non-traumatic amputations, and a major contributor to nerve damage, stroke, and heart attacks. The good news, though, is that a cure for type 1 diabetes IS within reach. For the first time, scientists are predicting that we CAN expect to see a cure for type 1 diabetes well within our lifetime! I have hope and your support will get us closer.
Some people ask why I support JDRF? The Juvenile Diabetes Research Foundation's mission is simple, "To Find A Cure For Diabetes", period. JDRF is the world's leading nonprofit, nongovernmental funder of diabetes research and was founded in 1970 by the parents of children with juvenile diabetes. Since it began, JDRF has provided more than $800 million to diabetes research worldwide. In a typical year, more than 80 cents of every dollar received goes directly to support diabetes research and education.
JDRF will be having their annual Walk to Cure Diabetes at the Pro Football Hall of Fame in Canton on Saturday September 10, 2005 and at the Cleveland Metropark Zoo on September 17, 2005. I am going to be leading team STEPHANIE'S STEAMERS at both events. You can support me in several ways:
1. Join my team and walk with us! The Walk is a fun family event with activities, free food, entertainment and free admission to the Pro Football Hall of Fame or the Cleveland Zoo. Each walker collects pledges from friends, family and co-workers and receives their very own STEPHANIE'S STEAMERS tee shirt. In addition, every walker who collects over $100 will receive a JDRF Walk tee shirt the day of the walk. Be sure to mark your registration/sponsor form "STEPHANIE'S STEAMERS" so that we know who to thank! You can Register online at http://walk.jdrf.org/register.cfm?id=86077033 click on the Walk location you would like to register for.
2. Distribute this letter to anyone you know, asking them to send a donation, or write a letter of your own to send out to your friends and family.
3. Can't be with us but would still like to help find a cure? Send a tax-deductible contribution payable to JDRF to us. Any donation large or small will be greatly appreciated. You can even donate online!
Go to http:// walk.jdrf.org and enter my name then click on the Walk location you would like to support. Then click on "DONATE NOW" and watch the thermometer rise to my goal!
Please be sure to indicate "STEPHANIE'S STEAMERS" on all registrations/donations/ correspondence so that I know who to thank and so that JDRF can credit your donation to my team for the awards. My goal this year is $7250, one dollar for every shot that I have taken over the last 5 years. Keep in mind that some employers will match your contribution. If yours does, please include your matching gift form. If you do plan on joining us at the Walk please remember to pre-register for the appropriate Walk at http://walk.jdrf.org/register so I know how many tee shirts to have.
I am so grateful for your support and thank you for touching my life in special ways. I hope you will join us in our quest for a cure. Be sure to check my web site at www.setforacure.org for the latest on what I am doing and any last minute information about the Walk. If you have any questions or would like more information contact me at Stephanie@setforacure.org.
Thank you,
Stephanie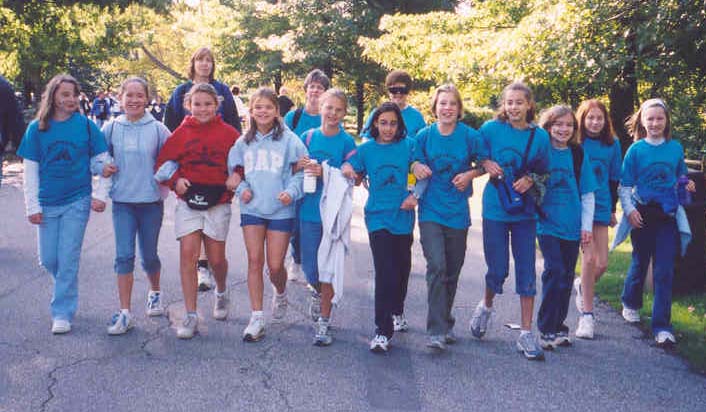 *** TEAM STEPHANIE'S STEAMERS 2004 ***
"Steaming Ahead for a Cure"